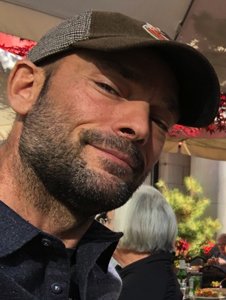 Though educated as a Research Biologist, I quickly found myself drawn to the graphic design field once I graduated. Completely self-taught, I spent 15 years running a small but successful design agency that focused on small businesses, artists, creatives, politicians, and others.
One fateful day, a random acquaintance who became a friend offered me my first job as Art Department Assistant on Spooksville. I ended up doing 95% of the design work for the entire season.
I work quickly and well, create unique and appropriate work, and enjoy the challenges of the TV and Film industry. I have 20 shows under my belt thus far, and am looking forward to many more.
Please peruse samples of my work below, and feel free to drop me a line if you would like to discuss a project.
Nominated for Art Directors Guild Award – 2019 – Welcome to Marwen
SONIC, Director: Jeff Fowler, Paramount, 2018

WELCOME TO MARWEN, Director: Robert Zemekis, Universal, 2017

BIRTH OF THE DRAGON, Director: George Nolfi, Groundswell, 2015-2016

COME AND FIND ME, Director: Zack Whedon, Oddfellows, 2015

STRANGER IN THE HOUSE, Director: Allan Harmon, Marvista, 2015

GIRL IN THE PHOTOGRAPHS, Director: Nick Simon, Vertical, 2015
THE LAST OF US, HBO, 2021-2022

BIG SKY, Disney/Fox, 2020-2021

DC'S LEGENDS OF TOMORROW S5, DC Entertainment, 2019-2020

DC'S LEGENDS OF TOMORROW S4, DC Entertainment, 2018-2019

CHESAPEAKE SHORES S3, Hallmark, 2018

ALTERED CARBON S1, Skydance/Netflix, 2016-2017

FREQUENCY, Warner Bros, 2016

SPOOKSVILLE, HUB Network, 2013
THE BRIDGE – PART 2, Director: Mike Rohl, Hallmark, 2015

FOR WHEELZ, Director: Jonathan A. Rosenbaum, Disney, 2015

PLAY DATE, Director: Terry Ingram, Hallmark, 2015

GOURMET DETECTIVE 2, Director: Scott Smith, Hallmark, 2015

BRIDAL WAVE, Director: Michael Scott, Hallmark, 2014

SURPRISED BY LOVE, Director: Robert Iscove, Hallmark, 2014

ZAPPED, Director: Peter DeLuise, Disney, 2013